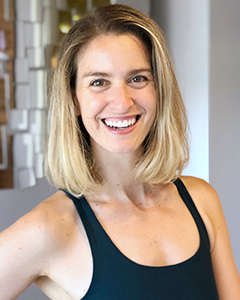 BIOGRAPHY
Fitness background: I started on this path at age 3 with ballet, which was a requirement as part of P.E. in school. I stuck with it and studied classical ballet for 17 years, as well as every other form of dance. And I still LOVE to move my body to music!
After a series of injuries forced me to cut back on how I moved my body, I promised I would never let this happen to others. I always wanted to work with dancers, or anyone with a passion, and support them when told they couldn't continue doing what they love.
Flash forward a decade, after studying Kinesiology at Arizona state University, I was finally doing what I love – working with bodies in a holistic way. I teach yoga and barre in addition to Lagree and I couldn't feel more right for me.
I found Lagree when I wanted a way to build true strength in areas I wasn't able to in my other practices. I dove head first into this method. It's challenging in ways I've never known and exciting to feel the growth in my physical body and mental state!
Other Certifications Include:
2012 – GYROKINESIS(R) certification, GYROTONIC Headquarters Münstertal, Germany
2016 – Barre certifies, Bohemain Studios / Adrienne Rabena
2018 – 200RYT, The Craft of Teaching yoga / Adrienne Rabena
imagine my life without it.
Why I love what I do:
Empowerment.
I love being able to motivate people to bring their best to practice. I encourage students find their edge and to expand beyond what they think is their boundary. I love being here to encourage you to grow not just physically but mentally. And I hope when you leave my class,
you leave feeling empowered, strong and ready for anything.
I teach so I can encourage students to move their body to their full potential. I teach to remind the community that you are amazing, you are strong and capable of so much. So why not push yourself in new ways and find new challenges to take on?
Values: Growth, passion, embracing your wholeness